Liberty Horse Training
Liberty Horse Training can help you develop a deeper, stronger relationship with your horse.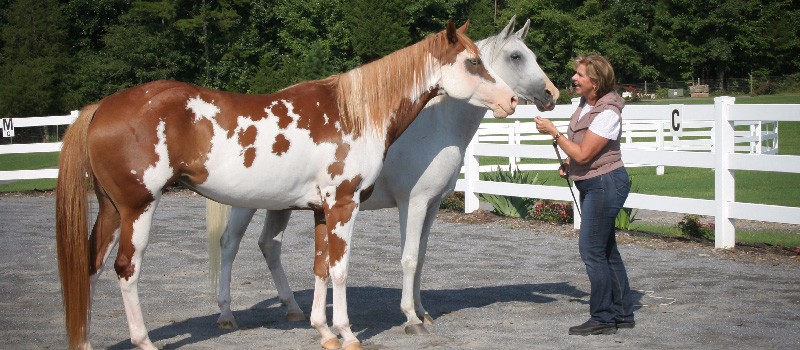 Teaching your horse should begin with equal playing fields, which is why we are so successful at Liberty Horse Academy. The relationship begins at Liberty. With your horse at Liberty, he has the choice to engage or not engage. At Liberty Horse Academy, we will teach you the art of connection that will attract your horse to you like bees to honey. Our courses are intended to build a deep bond and connection with your horse. Linda's unique method of connecting with horses allows the horse to always have a choice in how he wants to be trained. We are proud to offer to offer courses centered on this thoughtful, intuitive method of training. Fences, tack, and restraints are not natural to horses. Learn to speak to your horse in the language he speaks and understands.
To establish this beneficial relationship, training is focused on 5 heartfelt strings of connection, which include the following:
Your Bond
Trust
Respect
Focus
Willingness
At Liberty Horse Academy, we teach the ingredients to share an extraordinary relationship with a horse. We believe in teaching you the art of connection. Sharing a special bond with your horse can be one of the most rewarding experiences in life, and at Liberty Horse Academy, we are masters at teaching you about connection. Linda's life work came from listening and learning from horses, and she has created this online academy to teach you how to connect and learn from your horse.
We want you to open up the lines of communication between you and your horse. You will experience a viewpoint different from your own and how to learn from horses. You too can become your own horse whisperer, and we have the courses to make that happen.
With the convenience of learning from home in a comfortable environment, you and your horse will both thrive as you work towards developing a deeper, more intuitive relationship. We would be more than happy to give you further information about the principles taught in Liberty Horse Training, as well as how our unique course offerings teach these important objectives. Contact us at Liberty Horse Academy today to speak with us and to find out more about we can help you take your relationship with your horse beyond you and your horse's imagination.